About Jennifer and Nathaniel Whitman
"The Whitman Story Sampler"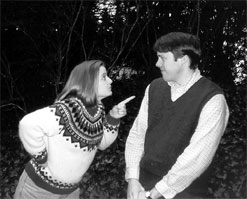 Jennifer and Nathaniel Whitman have been performing tandem, audience participation folktales as the Whitman Story Sampler for the past six years. They are educators in Hong Kong where they use storytelling to teach creative dramatics and literacy skills. Jen and Nat draw on their background in musical theater to weave rhythm, music and motion into their performances.
They have performed extensively for Seattle Public Libraries and King County Libraries in Washington State, and for the Portland Public Libraries and Washington County Libraries in Oregon. Their "Animal Courtyard" six-week series for the Hong Kong Public Library was a great hit. Festival performances include: Newport Oregon's Stories by the Sea, Northwest Bookfest, Mahasarakham International Storytelling Festival, PowellsWood Storytelling Festival and Bumbershoot Festival 1999 and 2001 in Seattle.
The Whitman's have delivered workshops on story and storytelling for: The National Storytelling Association convention in Tennessee; Stories by the Sea in Newport, Oregon; Antioch University; The University of Washington; EARCOS; and Industrial Light and Magic, San Rafael, California. They regularly work with educators, and students to teach the art of storytelling.
Offerings
The Whitman's have many programs and workshops on offer. They can also combine, create and tailor any of these offerings for your specific needs:
The Whitman's tell traditional folktales from many parts of the world. We emphasize audience participation, (chanting, singing and movement) in our storytelling. Our target audience is family audiences with children aged 3-12. We can select programs based on regional, topical, or issue based considerations. Let us work with you!


We have an academic workshop entitled "Tandem Storytelling, Twice the Fun." We offered this at the 2000 National Storytelling Convention in Tennessee, and will offer it in November 2002 in at the Asian Storytelling Congress in Singapore. This workshop explains some of the fundamentals of tandem storytelling. It looks at possible pitfalls and also the advantages to telling with a partner. It also lets the audience "get their feet wet" by trying out tandem storytelling themselves.



We provide workshops on using storytelling and creative dramatics in the classroom. These workshops are entitled "Letting the Magic of Storytelling into Your Classroom" and "Teacher Work: Using Storytelling to Facilitate Comprehensive, Kinesthetic and Authentic Learning". We have delivered these workshops for Antioch University's Masters in Teaching program, and at the University of Washington library school.



We offer active workshops introducing adults and younger persons to the art of storytelling entitled "Story fun!" and "So... you want to tell a good story!" Both workshops emphasize active story learning and techniques for finding what type of storyteller each participant is.



Any of the above workshops can be delivered in one, two or three sections of one hour each.