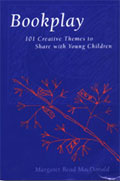 Bookplay: 101 Creative Themes To Share With Young Children

Author: Margaret Read MacDonald
Illustrator: Julie Liana MacDonald
I developed these programs for use at the Bothell Public Library where I have been a Children's Librarian since 1979. All were presented to groups of 2 ½-5 year olds with their parents, and to a group of 4-6 year olds. My aim was to choose a book I think the children should not miss, then build my theme around that book, adding other titles, songs or singing games, fingerplays or poetry, and ending with a very simple craft. Some programs include dance, rhythm instruments, creative drama, sharing of fine short cinema, and other activities.
Sale: $5.00 plus shipping. Contact author using link below.
Copies available from Margaret Read MacDonald.
Additional Information and Resources



Quotes

"A much used resource for anyone developing programs for young children" ...School Library Journal




"Anyone working with children should welcome this new set of recipes for successful story times. They mix books, poems, music, dramatics, and art in theme-based presentations for children ages two-and-a-half through the primary grades. ...The programs' clear but open ideas should stimulate the creativity of both the neophyte and the experienced professional looking for new inspiration." ...Journal of Youth Services in Libraries, Spring 1996, Amy Spaulding




"Teachers looking for a well-organized thematic resource book that reaches across the curriculum will find BOOKPLAY invaluable. " ...Iowa Reading Journal, 1988




" Dr. MacDonald has once again given us a resource that will infuse all who work with young children with renewed energy and inspiration. ...The strength of this collection is the simplicity of the activities and the delight they provide just by reading about them. ..The author tells of one preschooler who would leave each storyhour saying, "Thank you for a good time." That sums up my feelings about this book. Four stars. Emergency Librarian, 23:5, Jan Lieberman ... " ...




"101 new themes, as well as ideas for using books, musical and dramatic activities, films, videos, and a great deal of poetry and words and music for a number of songs...those who value the storyteller's time will consider this a good investment. " ...Booklist, Sept 15, 1995








Awards

Elementary School Library Collection, 21st ed.




Children's Catalog, 18th ed.










Categories and Keywords
Categories